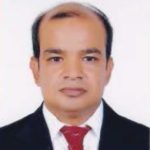 Md. Nasirul Alam


Managing Director
Tex Tech Company Limited has entered into the challenging world market of Ready made Garments (RMG) industry with a high expectation of making positive contribution towards steady progress to a national economy.
The company was established very recently and manufactures Woven garments for 100% exports in the world market. At present Bangladesh is the second highest exporter of RMG products in the world. It has achieved this competitive pride within time schedule given by the customers.
The company is owned by  a few private energetic and experienced entrepreneurs. While establishing the company, the owners knew it well that they will have to manufacture high quality products at the least possible cost to survive and flourish. Keeping this in mind, the owners built the factory equipping it with latest available machineries and providing it with other supportive facilities. The top management is assisted by a team of qualified professionals along with its skilled and experienced workforce in proper functioning of the company. The factory is situated at an attractive location and is well connected with good roads. The factory has an area of about four acres of land. It has three separate one storeyed buildings with covered area of 105000 sq ft accommodating all the facilities that are required for manufacturing quality products in a safe and congenial environment.